Remember the UP cops who yelled out 'thain thain' when their pistols got jammed while chasing a goon?
#WATCH: Police personnel shouts 'thain thain' to scare criminals during an encounter in Sambhal after his revolver got jammed. ASP says, 'words like 'maaro & ghero' are said to create mental pressure on criminals. Cartridges being stuck in revolver is a technical fault'. (12.10) pic.twitter.com/NKyEnPZukh

— ANI UP (@ANINewsUP) October 13, 2018
Around 5,000 people have indicated they're interested in turning up at Central Park in Delhi's Rajiv Chowk on November 4 just to shout 'thain, thain'. This is how they plan to celebrate an 'eco-friendly' Diwali.
"I never anticipated such a response within just 20 hours of creating the event," said Satyam Aggarwal, the event's organiser. Aggarwal, founder of Delhi-based travel agency The Wander Bottle, who created the event on the organisation's Facebook page.
The event is inspired by an Uttar Pradesh policeman who was recently caught on camera mimicking a gun after his colleague's gun jammed. The video sparked multiple memes, but the police official was likely to receive a certificate of bravery.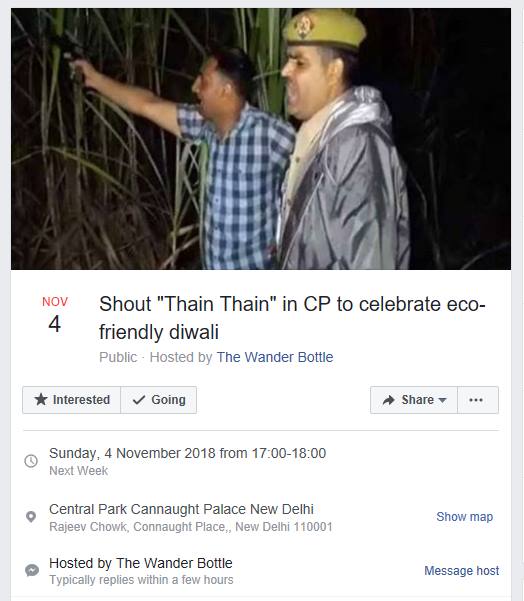 The 24-year-old entrepreneur created the event on October 22, and at least 1000 people have said they will be attending the event. Aggarwal doesn't believe the Supreme Court's restrictions on fireworks will be very effective in reducing air pollution.
"I think the two-hour rule will not be effective as there is no system to stop those who will definitely be burning crackers throughout the night," he said.
Aggarwal, who says he has organised such events in the past, acknowledges his event might not have been as successful without a link to the viral video of the policeman.
"The youth always connects with memes and trends, and to target the masses, we used the 'thain, thain' meme to reach as many people as possible," Aggarwal said. He is hoping to do more than just encourage environmentally-friendly ways of celebrating Diwali.
"Every year we try to celebrate Diwali with the underprivileged so that they don't feel left out during the festive season. This year also, we are urging people who are coming to the event to bring something for the underprivileged," Aggarwal said.
Aggarwal has listed an account to which people can make donations, and is hopeful an NGO will collaborate for the event. He said they managed to raise Rs 10,000 last Diwali.
Shout outs, where people gather in large groups to shout slogans linked to things that went viral on the internet, are common now. Aggarwal's event isn't even unique. There are events across Indian cities inviting people to do the same, his just received the most responses.